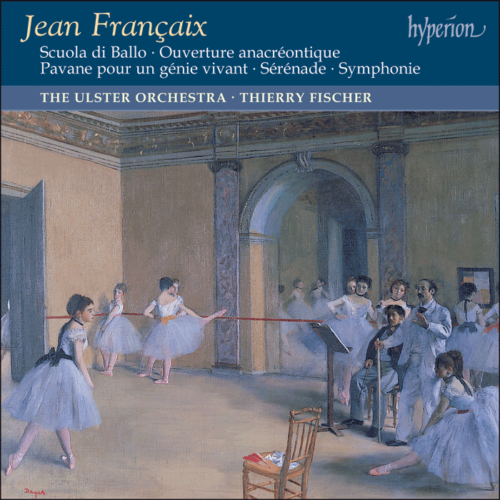 Jean Françaix: Orchestral Music
Ulster Orchestra
April 2002
The gentle urbane art of Jean Francaix, at once freshly engaging and invariably distinguished by an unerring sense of style, has endeared itself to successive generations of musicians and music-lovers. His death in 1997 at the age of 85 removed from contemporary music one of its most immediately appealing and distinctly Gallic masters.
This alluring orchestral music undulates between the dreamy and the dramatic, exemplifying Francaix's attractive use of sound colour and harmonies. The Scuola di Ballo, a ballet in one act, is based on music by Boccherini, largely from his quintets. The Pavane pour un Génie vivant was written to mark the fiftieth anniversary of Ravel's death, and the Symphonie was written in Haydn's memory. The Sérénade has neoclassical overtones, and the Ouverture anacréontique attempts to portray an imaginary world, without wars, in which all is well. The content therefore is largely retrospective, but remains charismatically original throughout.
Compelling listening, enthusiastically and empathetically played by the Ulster Orchestra, under Thierry Fischer.