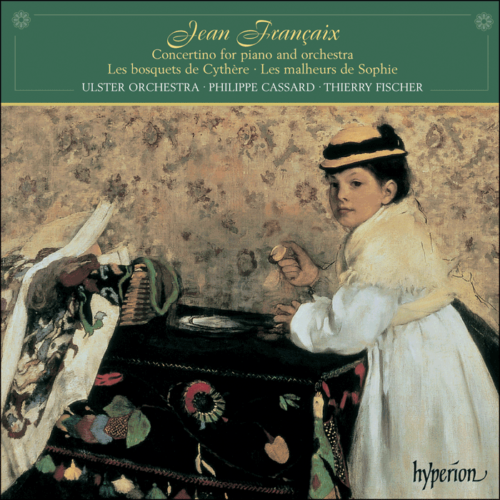 Jean Françaix: Ballet Music
Ulster Orchestra
November 2002
This new recording of orchestral music by Jean Françaix – personification of the elegant and witty French 'salon' ambience – brings us two ballets scores and the Concertino for piano and orchestra, one of the composer's earliest successes, still one of his best-known compositions, and itself a model of the pithy-yet-polished style Françaix has so come to represent.
The main work on this disc is the ballet score Les malheurs de Sophie, a setting of the eponymous French children's tale of a naughty little girl, her escapades and misadventures. In three tableaux, Françaix's score admirably encapsulates the capricious spirit of Sophie as she variously cuts up (and eats) her mother's goldfish, holds a funeral for a favourite doll, shaves off her eyebrows … All in all the perfect subject-matter for the composer's own brand of genial invention. Although the suite for wind ensemble the composer subsequently prepared has become something of a repertoire piece, the original orchestral score has remained frustratingly obscure until now.
Les bosquets de Cythère ('The groves of Cythera') is Françaix's development of a tradition which saw composers and poets from Debussy and Poulenc to Watteau and Boucher immortalizing the Bacchanalian, even Priapic, delights of this 'island of love'. In his updated fantasy world abandoned shepherdesses lie quite happily with the minxes from the notorious Parisian restaurant Chez Maxim and all is couched in an ironic style charmingly blending the manners of a Couperin with those of the Roaring Twenties.