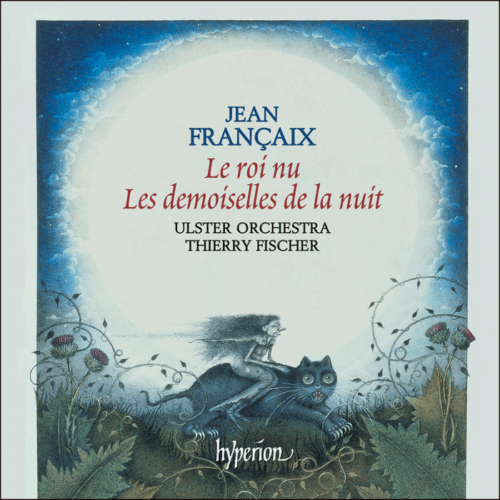 Jean Françaix: Orchestral Music
Ulster Orchestra
March 2004
The third in our series of orchestral recordings featuring music by Jean Françaix perfectly encapsulates the world of this humorous, civilized and quintessentially French composer.
Le roi nu, the fourth of Françaix's nine ballet scores, paraphrases the story (by Hans Christian Andersen) of the emperor who allows himself to be fooled into parading around the court totally naked—pompous fanfares, witty orchestral asides and louche polkas abound as the action gently mocks the misguided monarch.
Les demoiselles de la nuit is an altogether more moody affair (a facet even reflected at the Paris premiere when a young Margot Fonteyn initially refused to wear the required cat mask—'it wouldn't be asked of me at Covent Garden!'—to be met with a threat from the surrealist set-designer to burn down the theatre unless she complied) involving a beautiful young kitten in love with a (human) violinist who falls to his death cavorting on the rooftops. Needless to say, our genteel composer does not allow the gloom to persist, and the resulting ballet was rewarded with extended runs in London, Paris and New York.