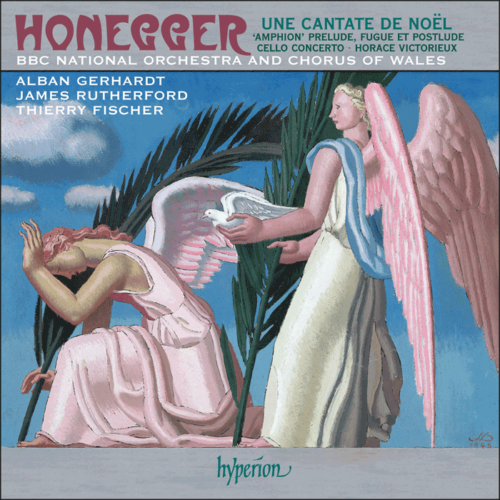 Arthur Honegger: Une Cantate de Noël, Cello Concerto & other orchestral works
BBC National Orchestra of Wales
November 2008
Honegger's Une Cantate de Noël is a Christmas number with a difference. His last work and one of his most popular compositions, it was written for the Basle Chamber Choir and Orchestra in 1953. The text of the cantata is derived from liturgical and popular texts—including Psalms and part of the Latin Gloria. A notable feature is the intertwining of traditional carols in French and German: appropriate for multilingual Switzerland and also perhaps symbolizing peace among nations seven years after the conclusion of World War II. Honegger scored the cantata for solo baritone, mixed chorus, children's choir and an orchestra including organ. The combination of the different texts and forms creates a wonderfully uplifting effect.
This recording from the BBC National Orchestra of Wales under Thierry Fischer also includes a selection of Honegger's other great orchestral works, all displaying the serious symphonic intent which marked his greatest compositional achievements. Horace victorieux is described as a Symphonie mimée d'apres Tite-Live ('mimed symphony after Livy') and was originally conceived as a ballet. The scenario derives from the Roman legend of the combat of the Horatii and the Curiatii. Scored for a large orchestra, it is flamboyant, dissonant, even raucous, and highly coloured. Honegger's mastery of fugue, so prevalent in Horace victorieux, is further illustrated in his Prélude, Fugue et Postlude.
Honegger's Cello Concerto was premiered in Boston in 1930 and is a charming, urbanely lyrical work, with a distinct tinge of jazz—perhaps actuated by the thought of the American premiere. It was written for the celebrated cellist Maurice Maréchal, who wrote the cadenza himself. In the event, Maréchal provided a brilliantly effective display-piece taking advantage of many of the outrageous aspects of virtuoso cello technique (notably majestic triple- and quadruple-stopping). The brilliant young cellist Alban Gerhardt, celebrated for his performances of little-known cello concertos in Hyperion's Romantic Cello Concerto series, is the soloist.